Board all year round
Be prepared for some quizzical looks and exclamations of disbelief when you announce your plans for summer this year - snowboarding. A few weeks of blinding sunshine and painful sunburns are not going to stand in the way of a true snowboard enthusiast. Which is why we bring you the best options for snowboarding around the world, so that you donít have to pack away your gear just because the seasonís changed.
If travelling too far isnít looking possible, there are a number of excellent indoor slopes in England. Donít get too snooty about indoor slopes Ė Europeís largest indoor real snow slope has opened at Milton Keynes. Snozone has two 170m slopes with 1,500 tonnes of fake snow and a chilly temperature of two degrees centigrade. There is also a 135m training slope.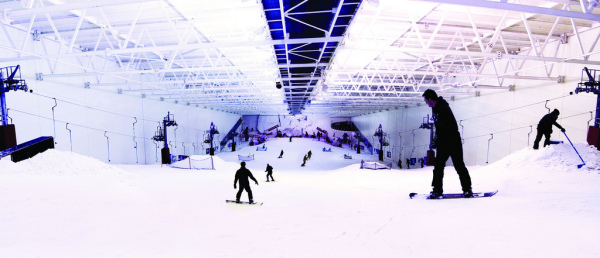 Other indoor options in Britain include the Tamworth Snowdome near Birmingham. Hemel Hempstead hosts the Snow Centre, optimistically calling themselves the ďgreatest snow this side of the AlpsĒ. Needless to say, the illusion is well maintained with their 160m slope covered in fresh snow generated by the latest snow cannons.
However, if youíre itching for fresh air, dodging real trees and seeing the real blue sky when you do land on your back, there are a number of fantastic ski and snowboarding resorts open in summer. Glaciers in Europe arenít letting the summer months stop them, as Kaprun in Austria, and Tignes, France, prove. Opening times on the slopes are different from the usual winter snowboarding holidays. The sun manages to start changing the snow conditions around midday. Mayrhofen, Austria, is a favourite destination, and a regular describes it as excellent for all ages. In fact, itís featured on a number of wish lists for 50th birthday ideas.
Saas-Fee in Switzerland is, in fact, known for its summer snowboarding. The peak time is between July and September. Thereís access to 20km of runs and a terrain park with kickers, quarterpipe, tabletops, rails and a halfpipe. For a camping experience, try Iceripper, for a week of riding and instruction through halfpipes, big airs, corners, rails, chairlifts, drag lifts, skateparks and if youíre lucky even a barbecue.
Switzerland also boasts the highest ice pavilion (3,810m) at Zermatt, on Klein Matterhorn. The glacier is known for its easy and intermediate runs, all serviced by t-bars, and a terrain park, and is open from early June to September.
Mt Hood in Oregon, USA, is open throughout spring, summer and winter. There are a number of camps for kids and pros. Itís one of the most popular destinations for year-round snowboarding and skiing. Whistler, Canada, is also open to winter sports all year round, and there are dozens of camps for beginners and instructors.
The weatherís changed, but itís not necessary that your passions change along with it. Treat yourself or a friend to a special occasion (snowboarding camps are great 30th birthday present ideas). Think of it as training for the upcoming winter run. After all, itís just three months away.